R & R Roofing offer the very latest in rubber roofing solutions, which can solve all flat roof problems.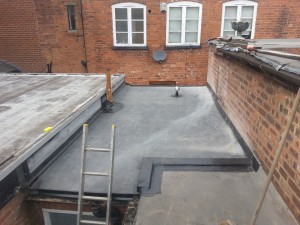 Fixed and installed by our highly experienced and skilled tradesmen, EPDM rubber roofing systems are not only of a similar cost to felted roof systems but have a 20 year guarantee with a life expectancy of 50 years.
Other roofing systems have tried to replace felted ones but have failed to match the durability of EPDM. Unlike other replacements, this system cannot break up and become brittle over years with no welded or heated joints.
These products are guaranteed for longevity and durability with a high quality finish.
We pride ourselves as a company giving the best possible solutions for the right costs to our customers.
• Replace old style felt flat roofs with non heat applied EPDM rubber roofing.
• Long lasting aesthetically pleasing finish.
• Cover existing roofs.
• Over boarding being an alternative option.